An Estate Planning Attorney in Columbus, Ohio
Before you retire and before the possibility of a nursing home presents itself, you need to call an estate planning attorney in Columbus, Ohio, at Rathburn & Associates. When you begin planning early, you can have a more detailed plan to follow. Our legal team will act as your trusted advisors and help you prepare for your future.
As part of our estate planning practice, we can help you with the sometimes-complex areas of elder law and Medicaid planning. We can explain trusts and their different forms and uses. A trust may be the way to plan for your potential need for Medicaid and possibly avoid probate. Alternatively, you can make them a planning tool for minors and persons with special needs, where we must work around and preserve disability benefits.
Power of Attorney vs. Guardianship
Ohio law provides that a person may establish power of attorney for healthcare and general purposes. A good, sound, power of attorney document can save your family and loved ones a great deal of time, energy, frustration, and money if you become incompetent or incapacitated.
Without a good document from our elder law attorney, it would be necessary for your family or loved ones to petition the probate court to establish a guardianship. The best legal scenario is to execute a power of attorney document while you are well. A guardianship may involve a minor, an incompetent person, or a disabled person. To start a guardianship case for an adult, you must have a doctor's evaluation and diagnosis that the person is "incompetent" and otherwise unable to care for his or herself.
The Guardianship Process
Guardianship generally has two parts-guardian of the "person" and guardian of the "estate." Probate court can appoint the same individual to be the guardian of the person and estate of a ward. The person to be appointed generally must be prior approved for bond in amounts set by Ohio law. You need a highly experienced law firm to help you, and Rathburn & Associates has the experience you need. Call our estate planning law firm before the need arises so you, your family, and loved ones can be protected and prepared.
This is not an easy endeavor, but our lawyers in Columbus, Ohio, can simplify it for you. Guardianships start by filing a petition, along with other required documents in probate court that we will acquire for you. You should not go at this alone because it is a complicated legal matter that involves a great deal of court controls and ongoing filing requirements. Guardianship can even cross into other areas of law that you may need advice for including:
Real Estate
Pensions
Insurance
Medicare
Medicaid
Bank Accounts
Healthcare
Start planning for your future when you reach out to our estate lawyer in Columbus, Ohio, by calling (614) 497-9918 right now.
Estate Planning Attorney in Columbus
Turn to a skilled and personable attorney that makes everything simple for you when you need estate planning services. The legal team at Rathburn & Associates takes the time to listen to your concerns, determine your needs, and develop a plan that is customized for you and legally binding. Put your confidence in a highly experienced and trusted estate planning attorney in Columbus. Creating an estate plan doesn't need to be complicated. In fact, many people avoid doing it because they don't understand the process, the legal terms, and other aspects. Fortunately, when you depend on our estate planning law firm, you don't have to worry about a thing. Our estate planning lawyer has more than 25 years of experience in the field. He offers comprehensive estate planning and elder law services. Mr. Rathburn is a member of:
Probate Committee
Family Law Committee
Ohio Bar Association
Real Estate Committee
Credit Bureau of Columbus
Columbus Bar Association
Solo Practitioner Committee
Reputable Estate Planning Law Firm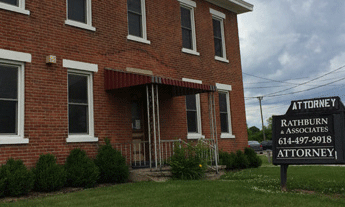 Since 1991, our law firm has served the local area. We offer personalized legal services-not a cookie-cutter approach to estate planning. In fact, you are never just a number at our law firm. We take the time to explain everything, so you understand the process and are comfortable with your decision. Our goal is to help you achieve your goals. Protect your family, your assets, and your future with our help. Some of the estate planning services we offer include:
Wills
Probate
Power of Attorney
Guardianships
Compassionate & Experienced Estate Planning Attorney
Planning for your passing is a sensitive issue. That's why you need a sensitive and skilled estate lawyer to assist you. Since one of the most essential parts of your life is planning for your future, we help you create an estate plan that's perfect for you and your family. We can also help your family avoid probate, so they experience minimal hassles and delays. An estate plan is a legal document that protects your assets while at the same time ensuring your loved ones are provided for when you die. When you depend on our estate planning law firm, we make the process easy, fast, and stress free. Mr. Rathburn and our legal team advise you throughout the entire estate process.
Contact us if you have questions about the estate planning process. We proudly serve clients in Columbus, Grove City, Hilliard, Dublin, and Worthington, Ohio, as well as the surrounding areas.
Elder Law Attorney in Columbus
Retirement is just around the corner. Are you prepared for it? Early financial planning is essential-and so is estate planning. As an experienced elder law attorney in Columbus, Mr. Rathburn assists with a variety of issues related to your future-from Medicaid planning and powers of attorney to wills, trusts, and long-term facility care. Safeguard your future with help from our elder law firm.
What to Expect from Our Elder Law Lawyer
Having more than 35 years of experience in the legal field, our knowledgeable and dedicated elder law lawyer is at your service. You always receive personal attention from our team. Based on your needs and goals, we create a plan that works best for you and your family. Our job is to protect your interests by putting your future plans into motion. Some of the elder law issues we address include:
• Lifetime Planning
• Asset Protection
• Powers of Attorney
• Medicaid Planning
• Long-Term Care Planning
• Living Wills, Wills, & Trusts
• Guardianship & Guardianship Avoidance
• Health & Personal Care Planning
• Fiduciary Representation & Planning
Elder Law Firm Providing Personalized Services
Elder law is a delicate and complex process that allows you to choose from any number of planning options. At our elder law firm, we develop strategies that are designed specifically for your needs. By planning ahead, you eliminate any concerns you may have about making quick and ill-informed decisions. Instead, we are with you to provide guidance and support the entire way. Plan now and enjoy the rest of your life! We are here to assist with medical care issues related to senior living, as well as other concerns such as disability or incapacitation. They are difficult topics to discuss, but we have the sensitivity and experience to ensure you are fully prepared.
Make the Right Choice with Our Elder Lawyer Attorney
Choosing the right elder law attorney is important. You need a qualified legal expert to create legally sound documents that are tailored for you. When you work with us, we not only help with asset protection for your home and finances, but we also guide your caregivers if needed. In addition, we may be able to help you in finding the right nursing home or assisted living facility for your loved one. Our teams make sure you or your loved one's quality of life is satisfactory for all parties. Come to us for the elder law legal advice and resources you need.
Contact us to start planning for your future with help from our elder lawyer. We proudly serve clients in Columbus, Grove City, Hilliard, Dublin, and Worthington, Ohio, as well as the surrounding areas.
Guardianship Attorney in Columbus
Become a guardian and provide the care your loved one needs. If someone close to you can no longer make or communicate sound decisions, you may want to consider guardianship. Our guardianship attorney in Columbus helps you begin the process. However, guardianship is a complex legal matter. It involves many court controls and filing requirements. At Rathburn & Associates, we are highly skilled in this area of law. Whether you are seeking to become a guardian or you need to appoint one, we can help. By appointing a guardian, you ensure that those under your care are looked after upon your death or if you are incapacitated. Even though guardians may have a bond with the person under their care, the primary role is for them to coordinate and monitor professional services needed by the incapacitated person.
Skilled & Caring Guardianship Lawyer
Legal guardians are adults responsible for minors or other adults that are unable to make decisions for themselves for various reasons. They are granted legal authority to act on the behalf of the dependent person. A legal guardian can be appointed through a will, during the process of estate planning, or any other time. Guardians make basic decisions for the wards in their charge, depending on specific regulations set forth by the one who appoints the guardian. This can be as simple as arranging for necessities like school and buying food and clothing to making medical and financial decisions. They are usually appointed by parents, spouses, or other close relatives.
When a child needs a legal guardian, the court can appoint one or the adult caring for the child may apply for guardianship. However, if the child's parents are deceased, but they named a guardian in their estate plan, that person may serve as a guardian if the court approves. For incapacitated adults, a guardian may be appointed to manage the individual and the adult's property, as well as make crucial personal decisions for him or her. Allow our guardianship lawyer to help make the process go as smoothly as possible.
Contact us if you need more information about filing for guardianship. We proudly serve clients in Columbus, Grove City, Hilliard, Dublin, and Worthington, Ohio, as well as the surrounding areas.

Life Care Planning
Medicaid Planning
Nursing Home & Elder Care Coordination
Probate
Guardianships
Wills
Trusts
Special Needs Trusts
Estate Planning
Veterans Benefits
There is A Life Care Plan the roadmap; a direct path during the perplexing and annoying maze of your aging loved one care needs.
A Life Care Plan unites the legal understanding of an Elder Law Attorney with all the seasoned advocacy of a Registered Nurse/Elder Care Coordinator, a Medicare Coordinator, a Medicaid Coordinator, and also a Veterans Benefits Paralegal, making a holistic solution for a legal, preparation and care demands.
A Life Care Plan Contains:
Legal Services of an Elder Law Attorney preserve family wealth and to safeguard the rights of your loved one. Probate Avoidance, Medicaid Planning and approaches to get all available public benefits. The Coordination of public and private funds to cover long-term care…. Wills, trusts, powers of attorney and advance directives…. Elder Care Coordination to urge your loved one and optimize their wellbeing…. An ally to guide your loved ones through every single step of your loved one's chronic care. Instruction — training which teaches you when to seek out solutions and also at which you may get benefits. In the home and onsite assessments to identify the family's care requirements and supply assistance in fulfilling them – advice on choosing and gaining entry to long term care centers.
Planning Goals:
There are three goals of the Life Care Plan which we help you execute and build: We help be certain you or your loved one has care, whether that care is in the home or out the conventional home setting. For it belongs to the heart of your wellbeing in your years, this is the most crucial of goals. Your Life Care Plan is concentrated on security your health, and well-being. We assist you in making decisions connected with your long-term maintenance and particular needs. We're the source of advisors that are the goal, supportive, knowledgeable, and experienced. We assist you in locating resources to cover great long-term maintenance. We work with you through the maze of choices and alternatives to locate the very best, or the way to solve the asset protection difficulty generated by the requirement to cover maintenance that is quality.
Other Questions:
1) A Life Care Plan helps your Nearest and Dearest and your response questions
2) How do I guarantee my financial safety as I age?
3) What people benefits are I entitled to, and what exactly do I must do to be eligible for them?
4) Can I rely on Medicaid or other government benefits to help cover my attention?
5) How do I apply for benefits?
6) What types of insurance do I need?
7) Can I purchase long-term maintenance insurance?
8) Can I join a Medicare HMO?
9) How and when should I distribute my resources?
10) Can I avoid probate and save taxes?
11) Must I devote all my cash in my maintenance, if in my house or a home care facility like a nursing home?
12) How do I protect my resources from leaving for my kids, to make sure I receive care, or to look after my partner?
An Accessible Estate Planning Attorney
Our legal staff can help you determine which option is best for you and loved ones with an estate plan that will achieve your goals. Our law firm provides free parking and easy access, along with over 27 years of legal experience. You can rely on Rathburn & Associates when you need an estate planning attorney in Columbus, Ohio.
Connect with our compassionate attorneys by calling (614) 497-9918 when you need legal assistance.
Immediate Case Evaluation! No Waiting!
Our Guarantees

CALL TODAY FOR A FREE CASE EVALUATION:
(614) 497-9918