Experienced Probate Attorney in Columbus, OH
Here at Rathburn & Associates, we are here to protect your assets and family estate from Ohio Probate as much as possible. A significant part of our practice is helping families prepare for a death to occur with estate planning along with helping families with legal needs after a death. An estate plan does not have to be complex, and you can rely on our estate lawyer in Columbus, Ohio, to assist you with creating one. Our legal team is highly experienced in legal matters that affect families both before and after a loved one has passed away.
There are certain property types that do not need to go through this process regardless of what a will says. For this reason, you need to trust a probate attorney in Columbus, Ohio, to guide you through the process. Jointly held accounts, real estate, and vehicles with survivorship rights should be transferred right away. If you're unsure which of your or the deceased's assets are non-probate, get in touch with us, and we'll be happy to clear that up for you.
Does Your Estate Assets Need Ohio Probate?
If you have had the misfortune of losing a loved one with an incomplete estate plan, call us immediately. We will review your documents and help you work through the court system under Ohio law. Dennis A. Rathburn is one of the highest-qualified probate lawyers near you. He's a member of the Columbus Bar Association Probate Committee and has more than 27 years of experience. Protect your family and your assets by calling Rathburn & Associates at 614-497-9918. The first call is free, so there's no reason to wait. When you are searching for lawyers in Columbus, Ohio, you can count on, turn to our law firm for representation and legal guidance. Contact our law firm to inquire about how we can help your family.
Probate Lawyer in Columbus
It's never easy to think about end-of-life issues. However, it's better to prepare now than leave your family to deal with everything. Fortunately, we make estate planning easy and stress free. Allow our probate lawyer in Columbus to take the burden off your shoulders and make the process easy for your family as well. We have the tools, experience, and knowledge to assist you and protect your assets. Since 1991, Rathburn & Associates has served the estate planning needs of clients throughout the area. We are known for our compassion, experience, and willingness to go out of the way for our clients. At our probate law firm, we work tirelessly to ensure your needs are met and that you understand the entire process. We listen to you, learn your goals, and help you understand your options in simple terms. It's never too early to begin planning. Schedule a consultation with us today.
Experts in Probate Administration
Keep your assets and property in the family. If you die without an estate plan, you'll be allowing the government to hold on to your estate until all legal matters are resolved. This results in a lot of legal red tape and delays. Instead of letting the state be responsible for administering the estate, depend on our team for probate administration. We help to reduce your stress and hassle by drawing up a plan that is customized for you and legally binding when you die. Don't leave your estate to the State of Ohio laws of "Descent and Distribution." Allow us to provide the assistance you need.
The Area's Leading Probate Law Firm
If you're dealing with end-of-life concerns, you need an inexperienced probate lawyer to handle your affairs. At our probate law firm, we offer personalized and accurate services you can depend on. From drafting a plan and submitting the paperwork to addressing all legal concerns, we provide effective and stress-free probate administration. One of the first things to look for in a probate lawyer is his experience. Along with that, you should feel comfortable in working with a professional and friendly staff. We ensure that your plan is enforceable upon your passing. At the same time, if you are dealing with the loss of a loved one, we'll be your legal advocate, address all probate issues, and help you work through the court system.
Contact our compassionate and competent attorney who cares about you and your family. We proudly serve clients in Columbus, Grove City, Hilliard, Dublin, and Worthington, Ohio, as well as the surrounding areas.
ESTATE PLANNING – IT'S ALL ABOUT YOUR FAMILY
What would happen to your family if something happened to you tomorrow?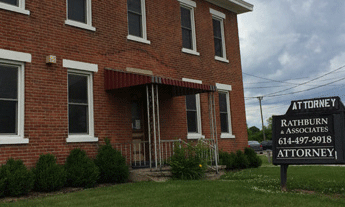 Probate, Estate & Elder Law Attorneys Near Me
Power of Attorney Planning in Columbus
Save time, money, and frustration by coming to Rathburn & Associates for Power of Attorney planning in Columbus. Your family and your future are very important to you. Whether you need a power of attorney (POA) for medical, financial, or the general purposes, we can draft a document that caters to your exact needs. The primary purpose of a power of attorney is to grant another person the power to make decisions for you. It is a good way to plan for the future in case something happens where you cannot make decisions on your own. In the event of such a situation, your agent is able to handle your finances, pay your bills, and address other important decisions.
Get Prepared with Our Lawyer for Power of Attorney
Who is going to take care of you if you become incapacitated or unable to make decisions on your own? It is vital to protect yourself and your assets by drafting this document while you are well. This is especially true for elderly or terminal ill individuals. Our experienced and caring lawyer for power of attorney takes you through all of the necessary steps in drafting this important document. Without a POA, a judge must appoint a conservator to handle the medical and financial details if you died or are incapacitated. This is a time-consuming and frustrating process. Allow our estate planning lawyer to make things easier on you as you prepare for the future.
A Leading Power of Attorney Law Firm
For more than 25 years, our power of attorney law firm has assisted people in all aspects of estate planning. From creating wills and trusts to drafting documents, we bring real peace of mind to our clients. Whether you need a POA as part of your estate plan or as a separate document, this is a valuable legal tool that must be properly drafted by a highly experienced lawyer. Mr. Rathburn is known for providing exceptional legal services as well as personalized attention for his clients. In fact, for clients who are unable to visit the office, he makes old-fashioned house calls when needed. He provides the individual attention you deserve and never treats you as just a case number or file.
Contact us when you need a durable power of attorney for an elderly relative. We proudly serve clients in Columbus, Grove City, Hilliard, Dublin, and Worthington, Ohio, as well as the surrounding areas.
COMMONLY ASKED QUESTIONS YOU MAY HAVE:
Is probate required in Ohio ?
Ohio Probate Laws. Back in Ohio, probate is the legal procedure which occurs after an individual (the"decedent") expires, whether or not the person died with a valid will or with a legal will. … Probate is not always necessary after somebody dies; it is dependent on what resources the decedent possessed.
How long do you have to file probate after death in Ohio?
Most straightforward probate instances could be wrapped up in roughly nine months following the executor or administrator is appointed. Creditors have six months to submit a claim. Therefore probate has to last at least long. In the event federal or state estate tax is owed by the estate, it is very likely to have.
Do all estates have to go through probate?
Not everything you have will automatically undergo probate. … Assets that normally perform not undergo probate are ) collectively owned assets which move to the surviving owner; two ) assets which have a legal beneficiary designation; and 3) resources which are in a hope. Nonetheless, these resources do not necessarily avoid probate.
Do all wills have to go through probate in Ohio?
Probate Without a Will. … When the decedent did not possess a legal will in the time of passing, his house passes to his heirs at law, based on Ohio's laws of intestate succession. In either circumstance, a decedent's estate generally must undergo probate. In Ohio, nevertheless, there are a couple of exceptions.
How long does Ohio Probate take?
Most straightforward probate instances could be wrapped up in roughly nine months following the executor or administrator is appointed. Creditors have six months to submit a claim. Therefore probate has to last at least long. In the event federal or state estate tax is owed by the estate, it is very likely to have.
How do you avoid probate court?
Below are some essential strategies to help keep more of your property in the hands of the men and women who matter most.
1. Compose a Trust. The method is to make a trust.
2. Name beneficiaries in bank balances and your retirement.
3. Joint Tenancy with a Right.
How long after death is probate?
Then the process can drag on for several years if you have to go through probate of an estate. The executor doesn't have to apply for probate for four decades. Normally wills are filed by individuals following the passing together with the probate court between a few months to a year.
How long does the probate process take?
The executor must notify beneficiaries of their impending probate using 60 times, and also file a statement with the court within 90 days they have been notified. Following the executor is appointed the stock of assets and claims have to be performed. Beneficiaries usually obtain their payouts in four to eight months.
Does a will avoid probate in Ohio?
In Ohio, you may produce a living hope to prevent probate for just about any asset you have — property, bank accounts, vehicles, etc. … In your departure, your successor trustee will have the ability to move it into the trust beneficiaries without a probate court proceeding.
How long can an executor take to settle an estate?
If the estate is managed by him and spreads assets before paying taxes and settling with creditors, he is held accountable for monies. While the probate procedure generally takes six weeks to a calendar year, it may take longer if the executor waits for his duties or when the estate is complex.
How long after probate is granted does it take to receive an inheritance?
Long Probate is Allowed Does it Take to Get Inheritance? A straight ahead Estate without a real estate to market and one bank accounts might take as little as 3 weeks . Nearly all Estates in England & Wales take approximately 6 to 9 weeks for Beneficiaries to get their inheritance.
Is Probate necessary if there is a will?
Probate is demanded when an estate assets are solely from the deceased's name. Typically, when the deceased owned land that had no additional titles attached, an estate has to undergo probate so as to move the property to the name(s) of any inheritance.
Is Probate necessary when a spouse dies?
When a Spouse Dies: 1 Reason You Have to Document Together with the Probate Court. Your partner just passed off, and everything that your partner possessed had a joint or exemptions. All your partner's assets proceed to you without needing to go via probate first.
PROBATE LAWYER NEAR ME
Probate Lawyer Dublin Ohio
Probate Law Franklin County OH
Probate Lawyer Lancaster Ohio
Probate Lawyer New Albany
Probate Lawyer Pickerington Ohio
Probate Lawyer Reynoldsburg Ohio
Probate Lawyer Summerford Ohio
Probate Lawyer Westerville OH

Immediate Case Evaluation! No Waiting!
Our Guarantees

CALL TODAY FOR A FREE CASE EVALUATION : (614) 497-9918